Product Detail
Product Tags
| | |
| --- | --- |
| Silicon Type | Poly/Mono Crystalline |
| Maximum Power(PM) | 30-300W |
| Maximum Power Volatge(Vmp) | 17.50V |
| Maximum Power Current(Imp) | 4A |
| Open Circuit Voltage(Voc) | 21.5V |
| Short Circuit Current(Isc) | 4.5A |
| Conversation Efficiency | 17.5%-18.5% |
| Operating Temperature | -40°C-85°C |
| Surface Maximum Load Capacity | 5400Pa |
| Warranty | Power is no less than 90% of origin in 10 years |
| Lifetime | >25 years |
●Solar Cell: The use of high efficiency solar cells to make sure the high performance of solar module, which will also create the maximum power output as big as possible. The solar sells are from reliable CLASS-A grade cell suppliers.
●Tempered Glass: The glass is using the anti-reflect coating and high transmission glass to enhance the wattage and at the same time, to maintain the strength of the solar module.
●Aluminum Frame: 10 pcs holes are drilled on the fram to ensure the installation of the bracket. We use high quality aluminum frame which will have better strength support and anti-corrosions.
●Junction Box: The box is water-proof, and with multi functions, high level, not easy to damage.
●Lifespan: The solar panel can be used for 25 years, and we will provide the warranty for 5 years. This is for both mono crystalline silicon solar panel and poly ones.
●Tolerance: The standard quality of a solar panel is that the tolerance should be with 3%, higher or lower.
●Ambient Environment: High tolerance for different environment, like wind , rain and hails. Good resistance to moisture and corrosion.
●Certificated : Exported to many countris, have CE, TUV or IEC for the solar panel.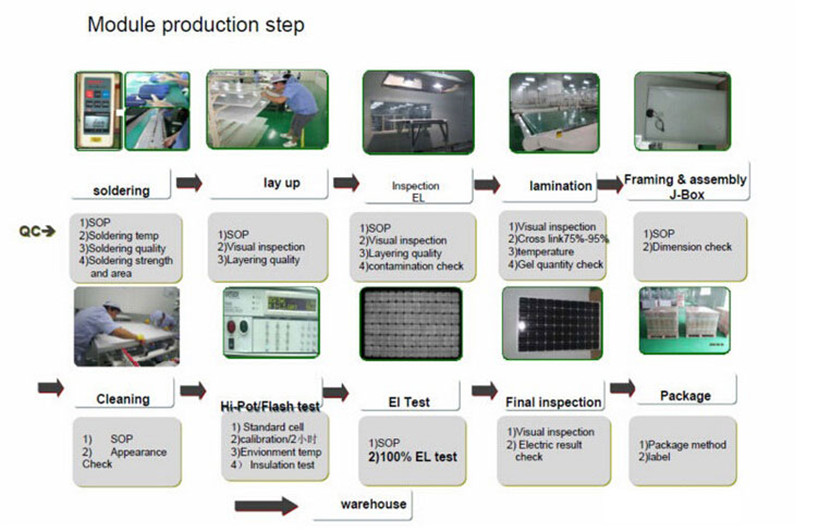 ---
---